ProGuard Front - Cable Tie
The ProGuard is our amazing new range of FRONT and REAR mudguards for disc brake mountain bikes offering unmatched protection from mud and spray, it's perfect for Trail, Enduro or Downhill racers and essential for the weekend warrior looking for the very best protection. Our design intent was to increase the tyre clearance, improve fit, and reduce the mud clogging issues seen with this type of mudguard. The MINI offers a very compact design for all year round protection, The STANDARD offers superb protection in a shorter more compact design, whereas the longer MAX PROTECTION version (21mm longer at front than the STANDARD and 68mm longer at the rear) offers incredible unmatched levels of protection.
Available in 3 sizes
Front
Mini:

386mm long 85g (without cable ties)

Standard:

494mm long 119g (without cable ties)

Max Protection:

582mm long 133g (without cable ties)
PRICES
Mini

£26.99 GBP

Standard

£26.99 GBP

Max Protection

£28.99 GBP

Coloured Stickers

£5.99 GBP
Options available
COMPATIBILITY
WHEELS:

26" 27.5" 29"

TYRES:

up to a 3" tyre

FORKS:

All forks including Boost forks (except reverse arch)

TRAVEL:

Any travel
Check out the RRP Dream Build featuring our ProGuard Bolt On mudguards with custom decals HERE
UK distributor:

EXTRA UK
The ProGuard range of mudguards have a soft high gloss finish which is a characteristic of our highly polished mold and our special polypropylene mix, this unique mix has been specifically blended for:
COLD WEATHER STRENGTH
HIGH IMPACTS
HIGH FLEXIBILITY
HIGH DURABILITY
As a result of achieving the above properties it means that the surface layer is soft and will scratch easily, you must also be careful about putting any chemicals onto the surface as it may tarnish the finish. That said we have tested and can recommend the following chemicals to use:
Silicone - Spray high quality silicone onto surface and very gently remove with a clean cloth to maintain a high gloss finish and to stop dirt and water from sticking.
Bike cleaner – Non caustic bike cleaners can be used on the ProGuard mudguard
GT85/WD40/Solvents - Only rub these on the surface if you want to remove the gloss and display a matte finish to match your bike.
NB: REMEMBER – ADD ANY STICKERS BEFORE YOU USE ANY OF THE ABOVE CHEMICALS ON THE MUDGUARD OR THEY WILL NOT STICK
Any other chemicals other than what is listed above should not be used on the ProGuard mudguards as it will likely remove the gloss finish.
PROGUARD FEATURES INCLUDE:
INDENT FOR FORK BRACE GIVING EXTRA 4MM OF TYRE CLEARANCE
24 CROWN HOLES THAT OFFER A MASSIVE AMOUNT OF FIT OPTIONS
SNAP-OFF HOLE COVERS REDUCE SPRAY FROM TRAVELLING THROUGH UNUSED HOLES
LONG FRONT TO COPE WITH HIGH SPEED SPRAY
SMALLER TURN DOWN AT FRONT FOR BETTER TYRE CLEARANCE AND TO REDUCE BLOCKAGES
REAR FLICK OFFERS EVEN MORE PROTECTION WHEN THE WHEEL IS TURNED
STICKER RECESS OFFERS GREATER PROTECTION FOR STICKER ADHESIVE
SEAL PROTECTION INCREASED WITH OUR ACLAIMED SEAL SHIELD DESIGN
MAX PROTECTION VERSION IS 21MM LONGER AT THE FRONT AND 68MM LONGER AT THE REAR
WEIGHT - FRONT MINI:

386mm long 85g (without cable ties)

WEIGHT - FRONT STANDARD:

494mm long 119g (without cable ties)

WEIGHT - FRONT MAX PROTECTION:

582mm long 133g (without cable ties)
WHEELS:

26" 27.5" 29"

TYRES:

up to a 3" tyre

FORKS:

All forks including Boost forks (except reverse arch)

TRAVEL:

Any travel
COLOURED STICKERS AVAILABLE (SOLD SEPARATELY)
WHITE, CYAN, YELLOW, ORANGE, RED, MAGENTA, GREEN, TURQUIOSE, NEON GREEN, BLUE, PURPLE
INDENT
A mudguard tracking close to the tyre can offer great mud and spray protection but often at the cost of mud clogging and slowing the rider down, a mudguard that sits high off the tyre is conversely going to offer less protection so a compromise is needed.
FRONT
The front has been made longer than some of the offerings out there as we see this is an area that can significantly improve the protection of the face and eyes when riding at high speed. Our turn down at the front deflects the spray downwards without clogging with mud which causes blockages
SNAP-OFF HOLE COVERS
We have added hole covers that reduce the amount of mud that can get through unused holes. Once you have chosen which holes you want to use for fitting, you just use a screw driver to push the cover out leaving it clear for the cable tie. The 24 holes allow you to fit the mudguard to every type of conventional fork including BOOST forks (except reverse arch), this allows you to customise your fit
REAR FLICK
The rear flick was designed to simply offer more protection without adding extra length, it prevents more mud and spray from flying up the side of the frame especially when the wheel is turned
STICKER RECESS
The recess down the centre is a nice easy reference to apply our coloured stickers to, but it has a more important job, this recess prevents the sticker having to sit proud on the surface of the guard making it vulnerable to durability and jet wash issues. The supertack glue used on our stickers is strong, although it's fair to say that no sticker is able to withstand a sustained attack from a powerful jet wash, although the recess does prevent a direct hit
SEAL SHIELD
Our widely acclaimed Seal Shield has made it to the PROGUARD as a means of offering greater protection for your seals from high velocity mud and spray, the Seal Shield section also provides additional strength and rigidity to the rear reducing flex
MAX PROTECTION VERSION
We offer the longer MAX PROTECTION version to be the best protection in the world, this version is 68mm longer at the rear. No other mudguard offers more protection
MATERIAL
We decided to make our mudguard material slightly thicker than some offerings which together with our unique polypropylene mix gives great flexibility, durability and strength
ZIP TIES
6 cable ties are provided with each mudguard, the holes on the side arms are mandatory requiring 4 leaving the other 2 for the fork brace (although more could be added if desired)
Our ProGuard Front - Cable Tie is designed, manufactured, and packed in the United Kingdom
Fitting the ProGuard Front - Cable Tie
Front mudguard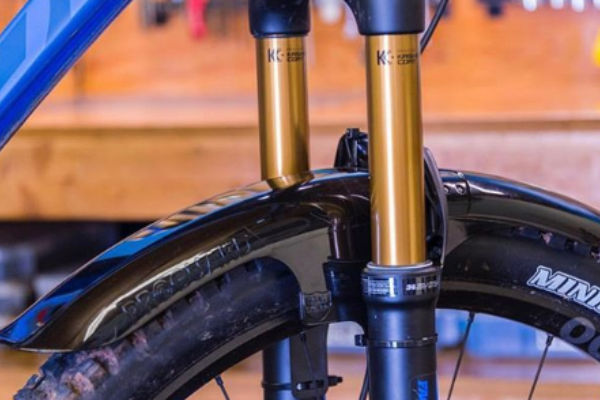 Slide the guard into position with the wheel in
Hold the guard in position making sure it tracks the tyres equally both ends
You can now see which holes you need for the most secure fit to your fork brace
Remove guard and push out / snap-off these holes
NOTE: Add clear tape to areas the guard contacts the fork to reduce scratches
Tighten cable ties lightly, stand back and check alignment
You can still grab the arms around the fork legs and twist them to raise/lower the back or front of the guard for final adjustment if needed
Once happy you must tighten the cable ties with fat pliers as tight as possible (remember cable ties don't' scratch forks….loose cable ties do!)
Cut off excess cable ties
Before use, ensure the guard doesn't hit the frame when bottoming the fork
Important
Zip ties must be tight to prevent movement.
Must be a minimum of 15mm tyre & 10mm frame clearance on bottoming
RECOMENDED: Use clear protective tape on areas that the guard contacts the fork to eliminate any rub marks or scratches
DO NOT USE IN STICKY / CLAGGY MUD AS IT MAY BLOCK AND CAUSE INJURY OR DAMAGE
RapidRacerProducts Ltd accepts no liability for any damage / injury caused due to improper fitting / use of our products
RapidRacerProducts Ltd, Parkfields Business Centre, Park Street, Stafford, ST17 4AL, United Kingdom
Suitable for disc only mountain bikes
The Rapid Racer Products ProGuard Max Protection is the TEST WINNER
The best mountain bike mudguard currently available on the market is the RRP ProGuard Max Protection
If you want the full-factory look the RRP ProGuard BOLT ON is the slickest, sexiest mudguard on the market! Affordable and high performance, it's a top drawer mudguard
Tom didn't get any shit in his eyes all winter, no glasses, super wet, crazy muddy, nothing on face, it will protect you and your bike from the very worst of conditions
You'll be treated to a lesson in mud guarding, it offers fantastic protection to the downtube keeping your face clear of grime, the ProGuard is a winter winner
No goggles no problem
The reduced mud in your face was so noticeable we headed for the biggest puddles we could find to get mud in our face to no avail. Does EVERYTHING it claims to do. Majorly impressed
Can honestly say this mudguard is bloody awesome!
Props to British company rapidracerproducts they have created an awesome new front fender